Mexicans fear Trump rhetoric is a poison that will infect US border policy as the cross-border war of words over the Republican presidential frontrunner's immigration rhetoric intensified.
Observers warn that even if a wall is never built, the current political climate threatens to derail decades of cooperation and economic ties
Felipe Calderon, a conservative who was president of Mexico from 2006 to 2012, told reporters at an event in Mexico City on Saturday that Trump's political rhetoric was "racist" and evocative of the Nazi dictator.
"This logic of praising the white supremacy is not just anti-immigration," Calderon said. "He is acting and speaking out against immigrants that have a different skin color than he does, it is frankly racist and [he is] exploiting feelings like Hitler did in his time," Calderon said.
Calderon added that Trump's discourse was "sowing hate" against the United States around the world and that was "not in Washington's interest".
Trump has accused Mexico of sending rapists and drug runners across the US border and has vowed to make Mexico pay for a wall on the border.
Calderon's predecessor, Vicente Fox, also compared Trump to Hitler in an interview with Anderson Cooper on CNN.
"He's going to take the US back to the old days of conflict, war and everything. I mean, he reminds me of Hitler. That's the way he started speaking," Fox told Cooper in a phone interview.
"He has offended Mexico, Mexicans, and immigrants. He has offended the Pope. He has offended the Chinese. He's offended everybody."
It is the second time Fox has hit out at Trump. Last week he said in another TV interview that he would "not pay for that fucking wall" and also called Trump "crazy," a "false prophet" and an embarrassment to his party.
During a visit to Mexico's capital, Vice President Joe Biden apologized for the inflammatory rhetoric about Mexico in the campaign.
"Some of the rhetoric coming from some of the presidential candidates on the other team are I think dangerous, damaging and incredibly ill-advised," Biden said on Thursday. "But here's what I'm here to tell you: They do not, they do not, they do not represent the view of the vast majority of the American people."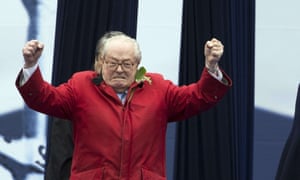 Haters unite!
Jean-Marie Le Pen endorses Trump days after ex-KKK leader urges support
 Donald Trump received a vote of confidence on Saturday from Jean-Marie Le Pen, the former leader of France's Front National who in the past has said the Nazi occupation was not "particularly inhumane" and suggested Ebola could solve Europe's "immigration problem".
"If I were American, I would vote Donald Trump," Le Pen tweeted on Saturday about the Republican front runner for president. "But may God protect him!"
Trump's ascendance in American politics began with his promises to build a "big, beautiful wall" along the US-Mexican border, derogatory comments about Mexicans, and a promise to deport 11 million undocumented people.
Le Pen founded Front National, a far-right party that campaigns mostly on anti-immigration policies.
Donald Trump Jr retweeted about Le Pen, albeit indirectly. The billionaire's eldest son quoted an editor at rightwing news site Breitbart who declared: "Trump has become the international leader of the populist revolt against the elites."
Marine Le Pen, Jean-Marie's daughter, currently leads the party, which expelled its founder last year for the extremity of his views. Like her father, she has appeared in court on charges arising from her inflammatory remarks.
In 2012, Jean-Marie Le Pen was found guilty of contesting crimes against humanity. In 2015, his daughter was acquitted of inciting hatred with a comparison of French Muslims to Nazis who occupied the country during the second world war.
On Friday, Trump disavowed the endorsement of another figure associated with inciting racial enmity, the former Ku Klux Klan grand wizard David Duke. The white nationalist told supporters: "He's made it OK to talk about these incredible concerns of European Americans today."
"Voting against Donald Trump at this point is really treason to your heritage," Duke said.
Trump has racked up less controversial endorsements in the last week, including his first from sitting governors. New Jersey governor Chris Christie endorsed his former rival on Friday, followed in short order by Maine governor Paul LePage. In 2012, LePage suggested the Internal Revenue Service was capable of a "horrific crime against humanity" akin to the Holocaust.
On Saturday, the Trump campaign announced an endorsement from the former Arizona governor Jan Brewer, who in 2010 said that undocumented people bring into the US "everything from the crime and to the drugs and the kidnappings and the extortion and the beheadings".
Trump said in a statement that he felt "honored" to receive the endorsement from Brewer.
"I love the state of Arizona," he said, "and have received incredible support throughout the state. I am leading in all the polls and we have had amazing events with tremendous crowds."
http://www.theguardian.com/world/2016/feb/28/two-former-mexican-presidents-compare-donald-trump-to-hitler?utm_source=esp&utm_medium=Email&utm_campaign=GU+Today+USA+-+Version+CB+header&utm_term=159236&subid=9599609&CMP=ema_565
http://www.theguardian.com/us-news/2016/feb/27/jean-marie-le-pen-endorses-donald-trump